Ms. Alizée Gaben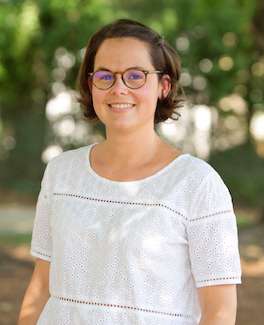 gaben@frenchschoolphila.org
School(s): Primary School
Department(s): French Faculty
Title(s): Kindergarten Teacher
Alizée Gaben hails from Larmor Plage in Brittany, France. She holds a bachelor's degree from the Université de Bretagne Sud, and a second bachelor's degree and a master's degree in education from the Université Catholique de l'Ouest de Vannes.
Ms. Gaben began her teaching career in 2012 in Ille et Vilaine. She later relocated to Rennes, where she taught first and second grades at a school in the city's center. Throughout her career, Ms. Gaben has taught in all three primary school "cycles," from prekindergarten through fifth grade.
In her spare time, Ms. Gaben enjoys reading and taking long walks to discover new trails and neighborhoods. She loves traveling and discovering new cultures and landscapes.
Ms. Gaben is pleased to be joining the French International School of Philadelphia, and considers it an opportunity to both teach and learn from her students.