Mrs. Isabel Sierra Dever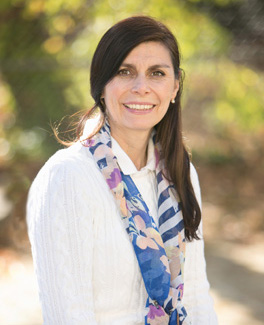 School(s): Middle School
Department(s): Specialist Teacher
Title(s): Middle School Spanish Teacher
Born in Mexico and later raised in Santander, Spain, Isabel Sierra Dever joined the French International School of Philadelphia in 2010 as the Middle School Spanish teacher. Prior to joining the French International School, Mrs. Dever taught after-school Spanish at Saint Mary Magdalena, Saint Kevin's and Saint Philomena's schools. Mrs. Dever has also taught at Cabrini College, through its "Casa Cabrini Spanish Immersion" program.
Studying at the Universidad de Santander, she received her bachelor's degree in business administration. She came to the United States and studied English as a Second Language at Delaware County Community College and is now fluent in English, French and the Mexican and Castilian dialects of Spanish.
When not working at the French International School, Mrs. Dever is busy with many other projects. She teaches at LingoKids, Inc., in Wayne and Tredyffrin, Pennsylvania, an after-school program that focuses on learning foreign languages. She has also taught Spanish speakers at the Escuela de Español for the past five years and in her spare time she is the bilingual manager for an auto body shop.
Mrs. Dever enjoys volunteering at her daughter's school during classroom events. She also serves on the Board of Circulo Español de Filadelfia, a Spanish group established to form activities for children that relate to Spanish culture. She feels a bilingual education raises a more aware and open-minded child and prepares them well for the future.