Ms. Nicole Layseca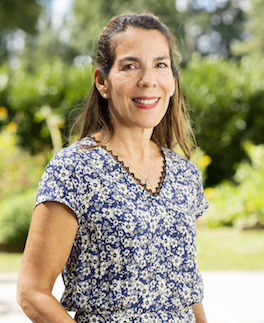 Title(s): Middle School Spanish Teacher
Born from a French father and a Peruvian mother, Nicole Layseca received her degree in French as a Second Language teacher from the Alliance Française in Paris, France and in Lima, Peru where she started teaching. She went to college in Philadelphia for Educational Psychology. In her fifteen years as a professional French and Spanish teacher and tutor in the Philadelphia area, Ms. Layseca has taught beginning, intermediate and advanced levels, and has explored different methodologies to teach children and adults that include theater, dance and music.
She enjoys being part of the French International School community, and contributing to the excellence her son received here for his pre-school, elementary and middle school years. As a certified examiner for the French official Diplomas, she has been examining DELF and DALF levels.
She is also a French instructor at the Alliance Française of Philadelphia and at the Academy of Vocal Arts-AVA.
Prior to teaching in Philadelphia, she was also an attorney-at-law for ten years both in Peru and Mexico.
Besides living in France and Peru, she has lived in Rome, Italy and now in Philadelphia. She is committed to helping her students grow, inside and outside the classroom. She also enjoys being with family, dancing and playing tennis.