French International School of Philadelphia Begins 25th Year with New Head of School
September 19, 2016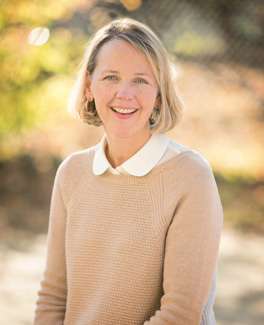 BALA CYNWYD, PA (September 2016) – The French International School of Philadelphia begins the 2016-2017 academic year with a new Head, Kathleen Kotchick, a long-time administrator at the school. Kotchick served as Interim Co-Head alongside Catherine Kosman during the 2015-2016 school year.
The French International School of Philadelphia is a not-for-profit, independent school offering bilingual instruction in French and English to a multicultural community of pre-kindergarten through eighth grade students. The Board of Directors selected and approved Kotchick for the Head of School position. In a letter to the school community, Board Chair Deborah R. Willig said, "Both the Search Committee and the Board very strongly believe that Kotchick is the right person to lead the French International School in the next chapter of its history."
Though new to the position of Head of School, Kotchick is well known by students and parents alike. On the first day of school, she welcomed grinning students by name, alternating between "Hello" and "Bonjour." In her own message following Willig's announcement, Kotchick expressed her gratitude to the Board for "…the confidence they have placed in me," and said that her primary focus as Head of School would be to "maintain the integrity of the mission of the school."
September marks the beginning of Kotchick's 22nd year at the French International School. She began her tenure as an English teacher and later joined the school's administration. Her other roles at the school have included English Program Coordinator, Director of Parent Relations, and Assistant Head of School, a position she held for five years.
The Scranton, Pa., native began her career in Baltimore, Md., where she was a teacher, technology coordinator, and in-service trainer. She holds a bachelor's degree in elementary education and a master's degree in curriculum and instruction from Loyola University.
In addition to welcoming a new Head of School, the French International School of Philadelphia celebrates its 25th anniversary. The school first opened its doors in September 1991, in a leased wing of the Baldwin School and counted just 13 students from prekindergarten to second grade. Twenty-five years and more than 300 students later, the school owns two campuses—one for children from pre-K to fourth grade adjacent to the Bala Cynwyd Library for children, and one on City Avenue which houses the Upper School. Students and teachers have already started commemorating the school's anniversary with classroom activities based on the number 25. A 25th Anniversary Gala will be held on March 25, 2017 at the Please Touch Museum in Philadelphia.
The French International School of Philadelphia is an independent prekindergarten through eighth grade school offering a bilingual curriculum in French and in English. Accredited by both the French Ministry of Education and the Middle States Association of Colleges and Schools, the school expects its students to become global citizens with a deeper understanding of and appreciation for other cultures.