Ms. Christiana Gallagher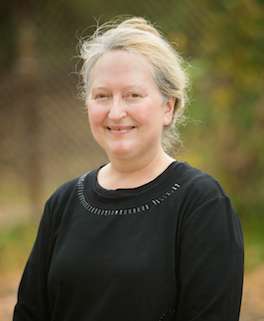 gallagher@frenchschoolphila.org
School(s): Primary School
Department(s): Specialist Teacher
Title(s): Music Teacher (PK-K); Childcare Staff Supervisor
Beginning her teaching with the French International School of Philadelphia in 2000, Christiana Gallagher brought with her a deep understanding of the multicultural learning experience after teaching for more than 18 years in several schools in France. Mrs. Gallagher has had a two-pronged role at the school since 2013; besides teaching music to prekindergarten and kindergarten students, she is also the Childcare Director, handling the daycare program in accordance with the Department of Public Welfare.
Mrs. Gallagher was born in Vesoul and was raised near Besançon, in Franche-Comté, France. She studied musicology at the Université de Strasbourg, France. She is fluent in English, and is proficient in German and Spanish.
From 1981 to 1999, Mrs. Gallagher was a middle school musical education teacher in Franche-Comté, France. Her position prior to the French International School was in Collège de l'Arc, in Dole, Jura. From 1989 to 1993 she directed the "A Coeur Joie Les Nymphéas" choir in Gray, France. When moving with her family to the United States in 1999, Mrs. Gallagher was eager to work in a bilingual and multicultural environment. Since her arrival, she has performed her French repertoire in many venues both scholastic and private throughout the Delaware Valley. She enjoys her work at the French International School immensely and says teaching music in French and having two different cultures is a unique experience that opens one's mind.
When asked what makes the French International School unique, she said, "We welcome families from all around the world. Children have the opportunity to develop their language skills in two different languages and to bring their own cultural background to the classroom where both art and music are very important."